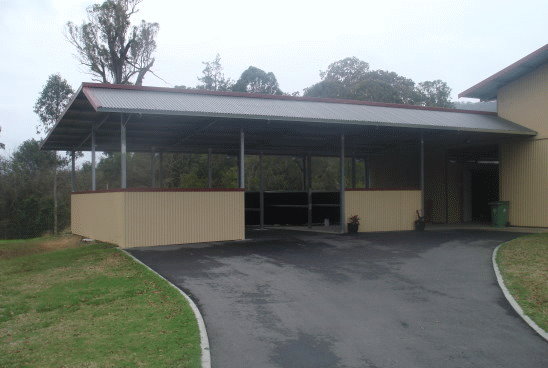 back
next

Javascript is disabled.
Please enable Javascript to view more images.
Exterior Wash Bay
This semi-detached wash bay is connected to an arena and stable complex and is a good alternative to an interior wash and grooming area.




Tie-up, Wash & Sawdust Bays
Drainage is everything in the design of a wash bay area. Concrete should be shaped to allow water to fall away from the bays and alleyways or other slab areas.
Drainage pits should be used to allow sediment to settle to the bottom of the pit while a sullage pump is used to spread excess water onto nearby garden or grass areas.
Where heavy use is anticipated, Superior Sheds & Stables can install a long shallow, easily cleaned drainage pit in the slab itself to trap sand and solids before they enter the main pit.
Hoses shouldn't be lying around, so we install overhead hose systems to more easily wash down a horse after a workout. Superior Sheds & Stables has many designs for you to choose from or custom design your own.