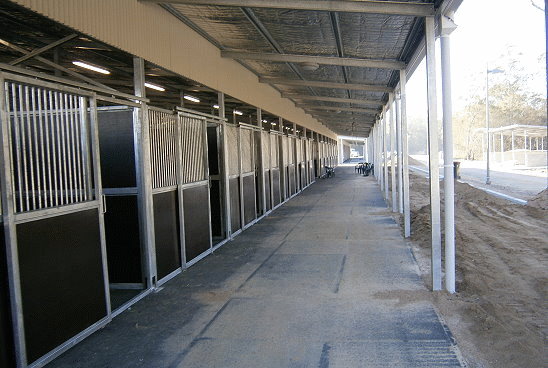 back
next

Javascript is disabled.
Please enable Javascript to view more images.
Queensland Equestrian Centre Stables - Near Completion
A view of the building exterior with the last of the earthworks nearing completion.





Steel and Ply Stables
Construction of Superior Sheds & Stables steel and ply stables utilizes duragal coated box section steel with dark brown - almost black - form ply sheets.
We offer two modes of building these stables. The first entails fixing the ply sheeting flush with the edge of the steel section which makes it impossible for a horse to reach and chew on the edge of the ply sheet. This method gives the stables an all round better finish.
The second method involves simply fixing the ply sheet straight onto the back of the steel frame. The advantage here is that the stables can be built faster and at a lower cost to the client.
Ply and steel stables have an attractive appearance with the silver coloured steel complementing the ply. Once again these stables can be moved in the event you decide to move to a different property. Contact Superior Sheds & Stables for details.