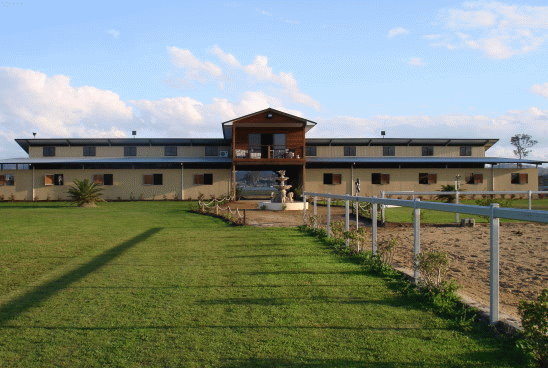 back
next

Javascript is disabled.
Please enable Javascript to view more images.
Lacona Farm
Concrete Stables built at Lacona Farm, a warmblood stud near Beaudesert, Queensland. Superior Sheds & Stables wishes Adam and Heidi Mellers continued success in their equestrian endeavours!





Concrete Stable Design
Due to the corrosive nature of horse urine we first began noticing problems with conventional timber and steel stable designs not standing up to the test of time around twelve years ago. Although we have since upgraded our own designs to avoid this problem, at the time we looked to concrete walls as an alternative solution.
Other benefits of concrete construction soon began to accrue : the insulative properties of concrete walls have been seen to provide a 5-10 degree internal temperature difference when compared to existing stables in a Queensland summer.
This not only aids in the recovery of performance horses but can often be a factor in whether a resting horse is lathered or dry, distressed or calm. Additionally, our concrete stables are low maintenance structures, solid enough to take what comes from small machinery, tractors and trucks. And although horses may be partial to chewing on ply or timber, they realize there is no nutritive value in concrete.
Stable walls are formed and poured in situ (standing, in place) with all openings in place. After the formwork is stripped the openings are ready to fit doors and windows
The fronts of, and dividers between individual stables are contoured and shaped in such a way that neighboring horses do not disturb each other when drinking or feeding. All shaped walls are either steel capped or rounded to prevent damage to a horse with an itch.
Large roof overhangs are a cornerstone of any successful stable design. Most companies would prefer to quote with no overhang at all but we recommend a 1.0m to 1.2m overhang. This keeps the walls shaded in summer, helping to reduce the overall internal temperature while providing substantial extra water catchment area and allowing a cooling 0.4m to 0.6m gap between the top of the external walls and the roof - at the same time, without allowing rain to penetrate the stable. A roof overhang will also add considerable aesthetic appeal to your stables.