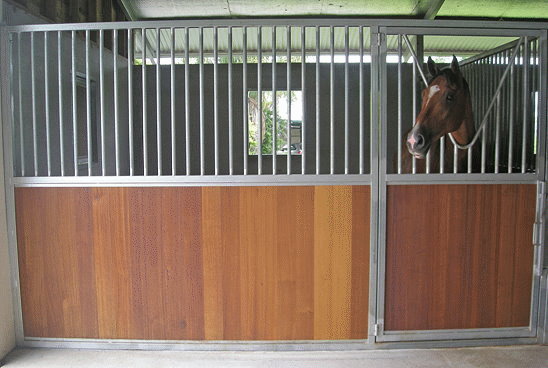 back
next

Javascript is disabled.
Please enable Javascript to view more images.



Stable Panels
A major goal of our company is to provide quality products to a wide range of clients at competitive prices, without compromising on quality. We have spent considerable time and resources investigating options for the design and manufacture of stable panels. Dave, the founder of Superior Sheds & Stables, has been working closely with our draftsman in the development and refinement of a panel concept that can be constructed at a low cost and easily and efficiently installed in existing sheds throughout Australia.
The stable dividers and stable fronts supplied by our company can be fitted into any bay size up to 4.1m wide. Panels can be installed D-I-Y or fitted by our experienced tradesmen at a reasonable rate. All panels are generally available with a choice of ply, rubber, bamboo or Tasmanian oak inset, with an option of either sliding or hinged stable doors.
Due to cost saving mechanisms, we are able to provide a quality product to our customers in Australia at a reduced price.
General Specifications
Panel Size
Height 2.4m; Width: from 3m to 4.1m
Frame
Hot Dipped Galvanized Steel - 50mmx50mmx2mm
Pipe
20mm od gal pipe at 75mm centres
Inset
Bamboo
Strand woven bamboo planks - 150mm wide x 25mm thick with 32 mm ventilation gaps between planks (oiled)
Timber
Kiln dried Tas Oak - 140mm wide x 25mm thick (oiled) - dressed with bull nose finish
Ply
Form Ply 17mm black or natural timber finish
Rubber
Conveyor Belt Rubber 6mm thick
Doors
Hinged
Ball bearing hinges screwed to main frame. Width - 1.2m or 1.5m.
Sliding
200 series rollers with 4 wheels per roller. Width - 1.2m or 1.5m.
Handles
Hinged Door
Steel slide handle with double catches
Sliding Door
Steel "D" handle
Feed Bin
Feed bin position height 1100mm
Panel Protection
In order to extend the life of stable panels, we offer the painting of the underneath of the panels and the inside of the panels to 200mm above ground level with a protective coating to help prevent timber rot and rusting of steel. Please see the order form for pricing.
Panel Self Assembly
Ply Divider
Timber Divider
Ply Front
Timber Front
Extras Available
Day yard doors
Storm shutters
Tasmanian Oak double sliding entry doors
Spinning Feed Bin Door with 30 litre plastic feed bin
Sawdust stopper behind door
Hinged panels to allow bobcat entry (full panel opens)
Super comfort rubber stable mats (17mmx1200x1830).
Ask us about lining the inside of your shed, automatic waterers, overhead water systems for wash bays, various types of feed bins, installation of tack room walls and ceilings.
Delivery
Delivery service is available to Qld, NSW & Vic (P.O.A.)
DIY Quote / Panel Order Form
Javascript is disabled in your browser.
Please enable Javascript to use this order form.