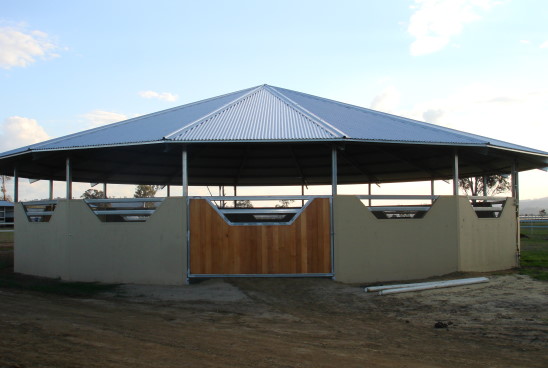 back
next

Javascript is disabled.
Please enable Javascript to view more images.
Round Yard Entrance
For a polished finish, the entrance to this round yard is made from galvanised steel and Tasmanian Oak, while the design allows guests to view the horse from the outside.





Round Yards
Round yards can be constructed from concrete, steel and timber or ply depending on your plans and the existing design of your property. Superior Sheds & Stables round yards are sized to your needs and specifications.
Most round yards are roofed as a precaution against the rain, sun and wind prevalent in South-East Queensland but this is not absolutely necessary.
Superior Sheds & Stables can supply and fit all accessories for your round yard including :
Night Lighting
Sprinkler Systems
Viewing Decks
Single or Double Entry
Insulated Roof
Vented Roof
When planning your round yard, if an arena is also being constructed, it is advisable to build the base for both arena and round yard at the same time.